Facebook has shut down accounts it says are linked to the Ugandan government, only days before elections for a new president and parliament.
The social media giant said a network connected with the ministry of information had been using fake and duplicate accounts to impersonate users and boost the popularity of posts.
In a BBC interview, the government accused Facebook of being biased.
The run-up to the election has been marred by tension and violence.
After 35 years in power, President Yoweri Museveni, 76, is being strongly challenged by music star Bobi Wine, who is 38 and draws much of his support from young people.
Bobi Wine has been detained periodically, and dozens of opposition protesters have been killed.
Campaigning has been banned in the capital, Kampala, and several other districts. The opposition says this is because it is popular in those areas, but the government says the measure is due to Covid-19 restrictions.
'Usual games'
"We found this network to be linked to the government Citizens Interaction Center at the Ministry of Information and Communications Technology in Uganda," Facebook said in a statement.
"They used fake and duplicate accounts to manage pages, comment on other people's content, impersonate users, re-share posts in groups to make them appear more popular than they were," the statement continued.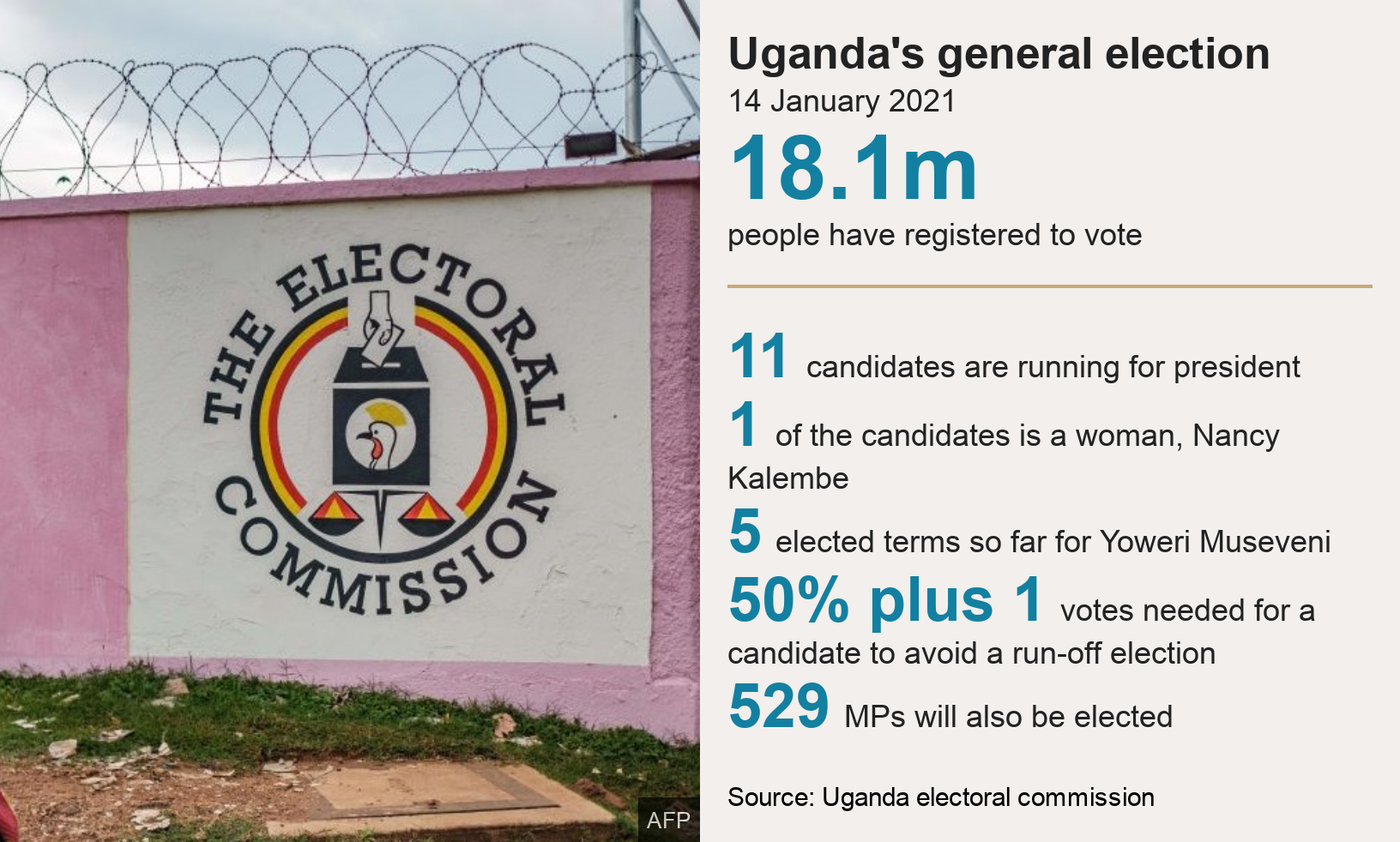 But government spokesman Ofwono Opondo hit back in a BBC Facebook Live interview , accusing Facebook of failing to adhere to "natural justice" and echoing suggestions by other government figures that the social network is trying to influence the election outcome.
"We are not familiar with anybody who complains about these accounts," he said. "The owners have not received any notice and no-one was asked to make any response to the allegations."
Mr Opondo described Facebook as high-handed. "I think they are playing the usual games," he added. "We know that they have a side in this election perhaps."
The government spokesman said Thursday's elections would be free and fair.
'A taste of its own medicine'
The BBC's Patience Atuhaire in Kampala says that the campaign period has been dominated by social media, as political parties moved to reach a young, politically aware population.
What you need to know about Uganda's election: https://www.bbc.com/news/av-embeds/world-africa-55623722/pid/p093cr5q
Many new accounts promoting messages from both the ruling party and the opposition have popped up in the last couple of months, especially on Facebook and Twitter. In many cases, the users did not use proper names, and shared content filled with hate messages and fake news, she says.
Ugandans online have said saying that the government has finally got a taste of what it feels like to be censured.
In December, the Uganda Communications Commission, the media industry regulator, wrote to Google, asking it to shut down several YouTube channels associated with Bobi Wine.
In the past, the government body has ordered online content creators such as influencers and bloggers to register and have their material vetted before publication, but this was put on hold after it was challenged in court.
During the 2016 election, the government blocked social media on polling day and for several after, which led to the proliferation of VPN use in the country.
Facebook's political moderation opens can of worms
It feels like there is a fresh wind blowing through social media in terms of how it deals with political content.
First we saw US President Donald Trump banned from Twitter and Facebook and now that has been extended beyond the US to Africa.
Facebook has shut a slew of accounts belonging to Ugandan government officials, accusing them of "co-ordinated inauthentic behaviour" in the public debate ahead of Thursday's election.
Mark Zuckerberg has long insisted that the platform he founded has to allow all forms of free speech and cannot become an arbiter of political conversations.
So what has changed? The truth is that the platform has increasingly focused on misinformation in recent years but the violence and chaos witnessed at the heart of the US government in recent days have forced it to speed up these attempts, and make some pretty big decisions.
The days of describing itself as a mere conduit for content seem to be well and truly over.
It has tried lots of ways to reduce misinformation, including ranking reliable journalism higher than fake news and training algorithms to identify "bad" posts, but it has had mixed results.
But now with all eyes on it, it is going to have to find a way to deal with content in a way that pleases politicians, its users and its advertisers, who do not want to be associated with a platform that is being accused of inciting unrest or influencing the results of elections.
It remains unclear how it will do so in the long term but in the short term expect more knee-jerk reactions to political events around the world.
And the new look for the social network will come at a price.
Some Ugandan officials are already accusing it of meddling in its election. Facebook could be stuck between a rock and a hard place for some time to come.